Oregon Lighthouses series by Emily Miller at Fairweather Gallery, Seaside
Last fall I took a road trip to visit and paint at all eleven lighthouses on the Oregon coast. I am exhibiting the series so far at Fairweather Gallery in Seaside during the month of August 2017. Join me for the opening reception during Seaside's First Saturday art walk, August 5 from 5-7pm!

Lighthouses have a mythical quality to me. They symbolize the journey between wild ocean and safe harbor. I love the ocean and have always lived near it. To me, the coast is a border between the known and unknown. This transition zone is one of my favorite places to explore.
I choose to paint the landscape view rather than closeups or lighthouse interiors because my artwork is centered on the way we interact with our environments. I am most interested in how we alter the landscape to suit our needs, and how the landscape, in return, alters our structures over time. Most of these paintings were painted on location, en plein air. I also took lots of reference photos for studio paintings, like the large Cape Arago Lighthouse and also my latest painting, Cleft of the Rock.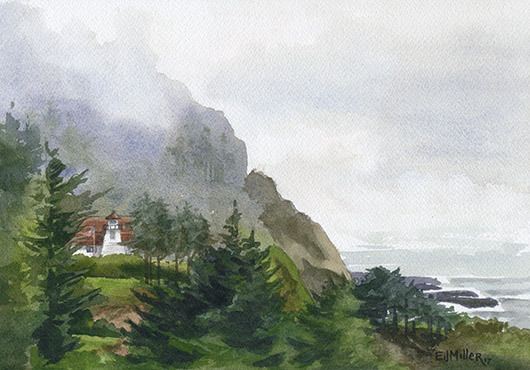 Cleft of the Rock Lighthouse, Oregon
I enjoy series projects like this because they provide a framework for exploring and understanding an area. I spend more time at beautiful places while I'm painting and photographing. The project gives me a reason to dig deeper into the history of a place, and discover new spots that I might have missed otherwise.
White settlers arrived on the Oregon coast in the 1850s and built most of these lighthouses in the next 30 years. A few exceptions, like Cleft of the Rock, are modern contributions built by passionate lighthouse enthusiasts. Each lighthouse has its own story.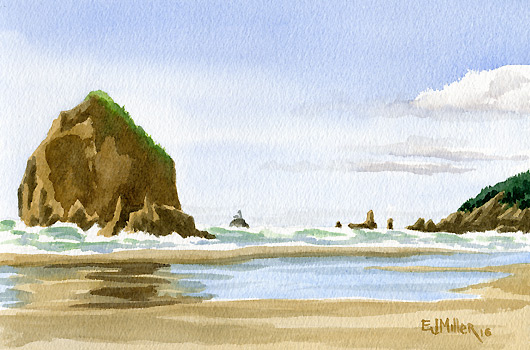 Haystack Rock and Tillamook Rock Lighthouse, Oregon
Tillamook Rock Light, the northernmost lighthouse on the Oregon coast, stands on a barren rock one mile offshore. Its silhouette is easily visible from Cannon Beach and Ecola State Park, but the lighthouse itself is nearly inaccessible. Tillamook Rock is pounded by truly incredible storms. Huge waves broke boulders off the cliffside, hurling them through the air to crash into the lighthouse. The same waves dropped tons of water onto the lighthouse roof, collapsing it and flooding the entire structure. After 77 years of service, "Terrible Tilly" was deactivated in 1957.
Yaquina Head Lighthouse from Cobble Beach, Oregon
Cape Meares Light in Tillamook and Yaquina Head Light in Newport still serve as active aids to navigation. They are also restored and maintained for visitors. You can go inside and climb up the narrow towers on beautiful wrought iron spiral stairs. At Cape Meares, you can even walk along the outdoor observation deck surrounding the lighthouse's red glass Fresnel lens, which was shot full of bullet holes by two vandals in 2010.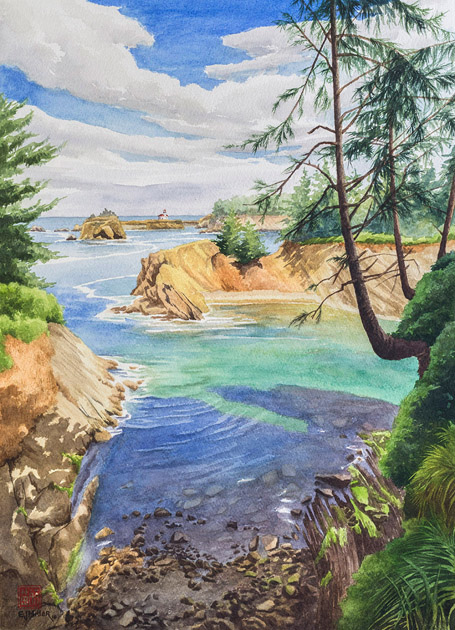 Cape Arago Lighthouse, Oregon
At Cape Arago Light on Chief's Island, bridges and boat crossings were repeatedly washed out, making access to the lighthouse difficult and dangerous. In 2013, the last bridge to Chief's Island was demolished and the land was transferred to the Confederated Tribes of the Coos, Lower Umpqua and Siuslaw Indians, whose ancestors lived in the area.
Lighthouse keepers formed a dedicated and unique community. Sometimes isolated for weeks at a time, the keepers lived in close quarters through pounding storms and thick fogs. Many head keepers only lasted one or two years before quitting, but others lived and died at the lighthouses of the Oregon coast.
Coquille River Lighthouse, Bandon, Oregon
Oscar Langlois served at Coquille River Light for 29 years. He was born at Cape Blanco Light and married Marie Amundsen, daughter of the keeper at Cape Arago Light, where he was stationed from 1905-1910. James Gibbs, who served as a lighthouse keeper at "Terrible Tilly," went on to become a noted lighthouse historian and to build Cleft of the Rock, his own private lighthouse on the central Oregon coast. On the other hand, John Zenor served 26 years at Yaquina Head Light and hosted over 100,000 visitors, but said he would never understand people's fascination with lighthouses!
These stories are just the beginning of a fascinating perspective on recent history along the Oregon coast. LighthouseFriends.com has many more wonderful stories about each lighthouse, and Keeper James Gibbs has written many books about the subject. I'm looking forward to researching and painting the rest of the lighthouses on the Oregon coast!