Join me for the unveiling of my 100 Turtles Project!
Saturday July 7th, 5-7pm
Fairweather Gallery, Seaside, Oregon
I've been working hard for the past month on my 100 Turtles project and I am so excited to unveil it at the First Saturday Art Walk in Seaside, Oregon. I'll be at Fairweather Gallery with my 100 handmade ceramic and porcelain turtles on Saturday, July 7 from 5-7pm. The exhibit continues through the month of July. I'll be sharing the full story of the 100 Turtles project in my next blog post, and talking more about it at the opening reception. It will be a perfect day to head out the coast!
I also have four plein air exhibits coming up this summer. I've been inspired to paint Oregon's seasons en plein air, and it's been so fun getting out and exploring the changing landscape with my watercolors. The project has included cherry blossoms at the Portland waterfront, red clover fields on country back roads, and surprise views of Mt. Hood on a hot, hazy day.

"
Needles and the Haystack
" plein air watercolor © 2017.
One of five Oregon coast original watercolors I'm exhibiting in Seaside, thru June 30 2018.
June 2 – 30 — Seaside, Oregon
First up is a series of Oregon coast watercolors on display for the Seaside Art Walk's June theme, "Sense of Place." Check it out starting Saturday, June 2 at Fairweather Gallery.
June 22 – August 3 — Lake Oswego, Oregon
Next, I'm participating in Lake Oswego's "Chronicle: Plein Air" event. I'll be live painting June 8-10 in the Lake Oswego area, with several watercolors included in the Chronicle exhibit at the 510 Museum from June 22 – August 3.
July 13 – 15 — Newberg, Oregon
I'm looking forward to painting Oregon's lavender fields for the first time as part of the annual Oregon Lavender Festival. My paintings will be on display in the exhibit at the Chehalem Cultural Center, July 14-15 in Newberg. July 13 is a special Collectors and Artists Reception and Preview from 6:30-9pm. I'd love to see you there!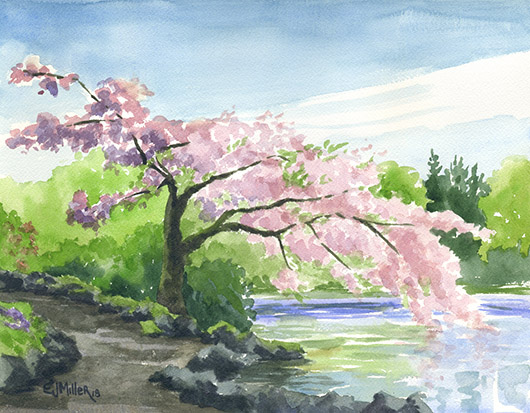 "
Cherry Tree over Crystal Springs Lake
" plein air watercolor © 2018.
I'll be including this piece in my solo show in Portland, opening July 26.
July 26 – September 20 — Portland, Oregon
I have a Featured Artist solo exhibit opening July 26 from 6-8pm at Local Discoveries on Alberta St. in Portland, Oregon. I'll be showing selections from the entire year of painting, including work from recent paint-outs. The opening reception corresponds to Alberta Street's Last Thursday summer street fair. It will be a fun evening, come early to find parking off Alberta St. and enjoy the fair! If you can't make it to the reception, the exhibit continues through the end of August.

It's going to be a busy, art-filled summer! Follow me on Instagram @ejmillerfineart to keep up with my latest work in progress, often still on the easel!