Chronicle: Plein Air
exhibit opens June 22, 2018!
Reception from 3-7pm. Exhibit continues thru August 3.
510 Museum & ARTspace, Lake Oswego, Oregon
I had a wonderful time in Lake Oswego earlier this month at the Chronicle: Plein Air paint-out event. I discovered some great new spots to paint, beautiful views of Mt. St. Helens and Mt. Hood, and had a blast talking to locals and meeting other painters! I finished five watercolors, and three will be on display in the Chronicle: Plein Air exhibit at the 510 Museum & ARTspace through August 3.

Lake Oswego Railway Bridge
, 11×14″ plein air watercolor © 2018
My first painting was at Foothills Park looking towards the Lake Oswego Railway Bridge, where I learned lots of interesting bridge facts from a local civil engineer. The bridge is nearly 100 years old and still in heavy usage – I watched a long cargo train pass over it while I painted. I'll be adding this to my series of paintings of Oregon bridges!
Red Barn at Luscher Farm
, 11×14″ plein air watercolor © 2018
My second painting of the day was at Luscher Farm, where I fortunately set up under a roof just before the start of an hour-long downpour! This was a challenging piece for me, with all the different textures and patterns in the grass and flowers. Painting the red barn was my reward for making it that far!
Willamette River at George Rogers Park
, 11×14″ plein air watercolor © 2018
On my second day of painting, I started with a view of the Willamette River just south of the Railway Bridge, at George Rogers Park. I challenged myself with this piece by trying out some loose, colorful brushwork in the water.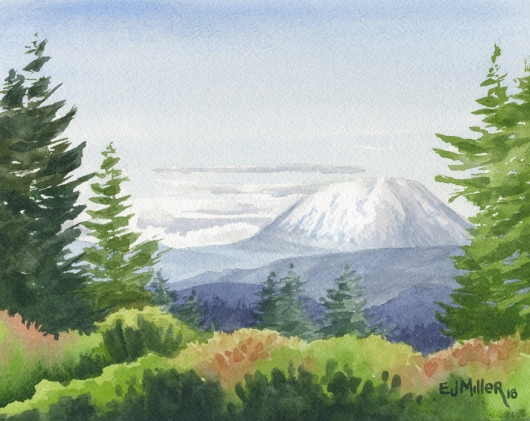 Mt. St. Helens from Marylhurst Heights
, 8×10″ plein air watercolor © 2018
I had scoped out this site looking for a view of Mt. St. Helens in the morning, but a low bank of clouds made the mountain almost invisible. Returning later in the day, the clouds had burned off and the mountain was framed perfectly between tall evergreens. When I'm looking for spots to explore in a new place, I focus on the "green patches" on Google Maps and check the park names and photos for clues. The name of this park – Marylhurst Heights – gave me hope that there would be a good viewpoint!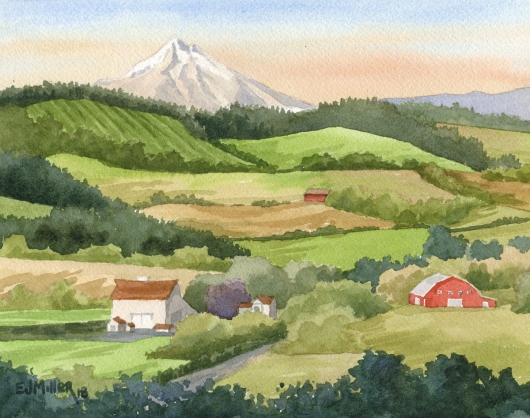 Mt. Hood Sunset from Cooks Butte
, 8×10″ plein air watercolor © 2018
My last painting felt like a true gift. All day, I had caught glimpses of Mt. Hood through the trees while driving around town, but I couldn't find a good vantage point to paint it. I kept driving up hills around local parks, trying to get enough elevation for a decent view. I ended up at the very top of a steep residential road at 8pm, where I found a breathtaking view of the mountain that was practically invisible just a block away. I knocked on a stranger's door to ask if I could set up in the driveway, and ended up on their balcony painting the last light of the day, listening to frogs, watching the mountain turn pink, and feeling peaceful and blessed.
I have lots more plein air coming up in the next few months! I'm currently in Ireland with family, hoping to sneak in some quick watercolor sketches in the next two weeks. I'll be back in Oregon just in time to spend a few solid days painting at the lavender fields for the Oregon Lavender Festival in mid July.